This morning God told Rose Vieiria to change her normal route on her morning walk on Monday. While walking not uphill, but down and around, she was led to a God connection so unexpected for Jessica Hook and herself, then for her husband Brian. A casual "hello" on a street when they met, then a change of mind to go and pursue talking to each other could have been nothing short of the hand of God Almighty.
You see Rose had just listed her home on the market because it had too many memories that were so difficult to live with. This was the home that she and her husband Kenneth Vieiria had so beautifully re-modeled. She had lost him to a tragedy in March of 2016. A man under the influence hit Kenneth with his truck while he was road biking. He died soon after in the Catalina Foothills of Tucson Arizona. She remembers driving home that day before the police called to inform her of the tragedy when she heard the Lord say, "The house is yours now Rose." What kind of a message was that from God? She had thought. But It was true.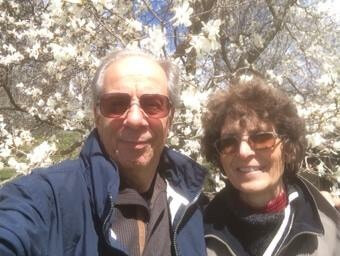 Brian Hook also remembers that day. It was his first trip from Las Vegas to Tucson to pray about the possibility of planting a church. As he and another pastor were driving down the same road, they were blocked by multiple police cars and paramedics. Brian had a terrible feeling that someone had died, and he remembers being grieved more than normal.
As Rose moved along on her morning walk, she noticed the sweet face of a little girl stopping to look closely at the vibrant yellow blooming cactus. As her mom was instructing her to carefully avoid the sharpness of the plant, Rose said a casual "hello" and walked on by. A few steps later, she stopped, looked back, and she made an intentional choice. She pursued a conversation with the mother and her little girl. Little did Rose know that Jessica was a church planter's wife, who just arrived in Tucson as a missionary with her husband Brian to start Aspire Church in the neighborhood. She had woken up that morning feeling very alone in a new city with no friends, and she had cried out to God to bring a someone into her life who really believed in the power of prayer just hours before she met Rose outside. And Brian, well he was praying for God's provision for a family that had committed to join him and Jessica in a few short months in Tucson to help plant this church. They needed a home close to the Hook's neighborhood. Rose had been praying that a Christian family will move into her home so they can spread the gospel to the neighborhood.
You see Rose is a prayer warrior. She has led prayer classes and attended many prayer conferences. She spends four hours every week on her knees praying with women from all across this city who belong to different churches.
She was God's way of saying to Jessica, I won't leave you alone in the desert. She came just at the right time.
As the morning progressed, Jessica invited Rose into her home to meet Brian. They instantly connected, and Rose lit up as Brian shared his vision for Aspire Church. Jessica wanted to tell Brian about Rose's loss, but Rose started to tell Brian her story.
Jessica won't ever forget the solemn look on Brian Hook's face when he heard Rose tell the story of Kenneth's death. As his shoulder's dropped, and his eyes filled up with passion he said,
"I know Rose, I know. I was there. I am so sorry. I was visiting town. I knew someone had died, and I grieved in a way that I hadn't grieved before."
Rose told Brian and Jessica about what a Godly leader Kenneth had been in the city. She also shared about her burden for the homeless and afflicted that lived there. They all agreed that the church in Tucson needs more warriors like Kenneth. That is why he called the Hooks. To make disciples and raise up men that will love Jesus the way Kenneth did. The three of them were excited to join in prayer.
And there they stood, Brian, Jessica, and Rose in the Hook's newly settled kitchen after the morning walk that God must have really enjoyed being a part of that day. Their hands were held, their hearts were full, and their spirits were instantly connected in a way like they had known one another for years. And Kenneth, well he must have been watching too thinking, goodness, they are only seeing just a smidgeon of His grace. Wait until they join me up here one day. What a party they need to invite the people Tucson to!